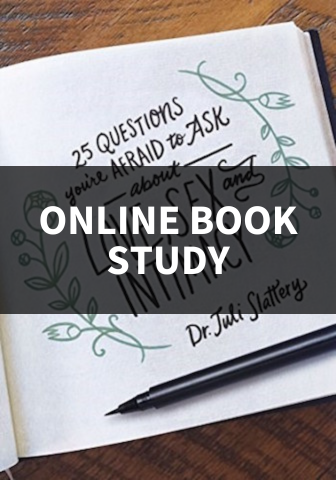 Authentic Intimacy
25 Questions You're Afraid to Ask About Love, Sex, and Intimacy--Monday Afternoon
Whether you are married or single, your sexuality is inseparable from your spirituality. Sadly, most churches are silent on the subject. Dr. Juli Slattery is breaking the silence. In 25 Questions You're Afraid to Ask about Love, Sex, and Intimacy, Juli tackles the most common and critical questions women ask her about sexuality, like:
What if I don't like sex?
Can I be single and sexual?
Is masturbation a sin?
How do I make time to make love?
What if I want sex more than my husband does?
Candid, wise, and practically minded, Juli addresses matters like sexual abuse, pornography, betrayal in marriage, intimacy in the bedroom, singleness, and more, calling women to think biblically about all areas of their sexuality.
Find answers to your questions, liberation from your fears, and freedom to explore God's good gifts of love, sex, and intimacy.
For Women:
Mondays, 2–3:15 p.m ET
Jan 22.–Mar. 18 (9-weeks)

Because regular attendance is a key part of developing a safe and authentic OBS experience, groups are held live on Zoom and are not recorded.

Online Book Studies include:
12 people (max)
Book - a physical copy of the book will be shipped to you
Invitation to a Q&A with Dr. Juli Slattery
Access to a

 

private

 

online

 

group

*An Online Book Study introduction will be available to download as "Digital Content" with order confirmation. 
---
Share this Product
---
More from this collection