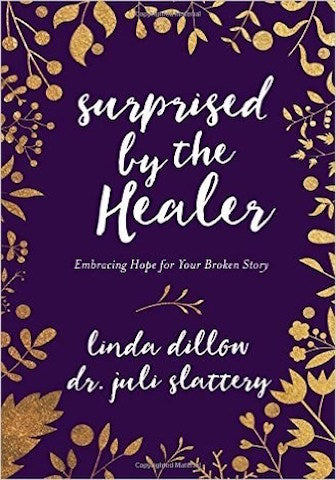 Moody Publishers
Surprised by the Healer
The Healer is inviting you…
God's word declares that there is healing for your deepest pains, hope for your biggest disappointments, and victory over your addictions, past hurts, and past failures. His name is Jehovah Rapha, the God Who Heals, and He can redeem your broken story.
In these pages, you will meet nine courageous women who have agreed to tell their stories, to share with you how they moved from hopelessness and brokenness to hope and healing. Whether from sexual abuse, betrayal in marriage, or other harrowing experiences, the Healer invited them on a unique journey of redemption in the midst of deep pain. He is inviting you, too.
Linda Dillow and Dr. Juli Slattery, cofounders of Authentic Intimacy, have been writing and ministering to women in the church and clinical context for several decades. Their wisdom and experience overflow in this work to give you a trusted resource in journeying toward healing.
Includes a study guide for each chapter in the back of the book.
Paperback: 208 pages
Publisher: Moody Publishers (February 2, 2016)
Language: English
ISBN-10: 0802413404
ISBN-13: 978-0802413406
Product Dimensions: 5.2 x 0.5 x 8 inches
Shipping Weight: 8.3 ounces
---
Share this Product
---
More from this collection